The Aggies played New Mexico in the mid-afternoon today and I headed out for some lunch ahead of the game. The Mexican food served in downtown Bryan establishments is my favorite thus a trip downtown was in the cards. After the lunch, I found some interesting equipment laying over in the Colorado Materials aggregate unloading area.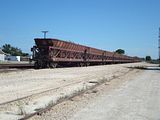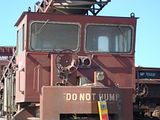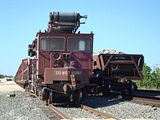 The GREX Dump Train is an old friend. In years past, the Georgetown Railroad dump trains were a very common sight here in Bryan / College Station as well as elsewhere in the state. It has been a long time since I've seen one running around and they are now used in support of railroad construction or maintenance. Is this set loaded or empty? It appears empty.
Along with the dump train and in the track right next to it is a string of side dump cars loaded with rip-rap.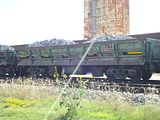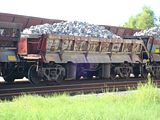 Either we have some bridge construction going on in the area or this train is being staged for hurricane duty. I'm not familiar with any area bridge work so I'm going with the latter.